What a gift to spend a lifetime with someone you love endlessly. We were overjoyed to have been a part of creating a beautiful and memorable celebration for Joe & Mary.

When given our event venue, we were presented with quite a challenge. This Church social hall was essentially a school gymnasium. Mission: Operation Transformation!
Together with our dedicated staff and vendors, we worked ferociously to convert this four walled, white, cold multipurpose room into a anniversary celebration, reminiscent of an Italian wedding 70 years ago. This 70th wedding anniversary is a milestone to be achieved by few, celebrated by this loving family and a goal for others to aspire!
Hundreds of feet of 18 foot tall pipe and drape, laced with yards of sheer organza fabric, embraced every wall of this venue. Strands upon strands of Italian string lights danced above the guests heads, allowing the industrial ceiling to disappear, while dozens of lavender up lights painted the fabric walls with a hue that inspired romance and reminiscing among the families and friends.
Silver Revere bowls, elevated and table top height, spilled over with white, green and purple hydrangea, tulips, roses and orchids. Hand tied strands of Hawaiian orchids dangled playfully from the taller centerpieces. The scent of spring filled the air. Lavender roses petals made perfect beds for the precious photographs of the loving couple over the years.
Our kid's table stretched over 32 feet in length and kept the attention of 49 children for over three hours, coloring, playing checkers, cards and visiting the past with slinkys and dominoes!
After show-stopping platters brimming with pastas, pizzas and steak made their way to the tables, guests were wowed by tri-colored coconut cake, inspired by the Italian flag.
This family will remember this celebration and pass down the memories of it to many generations to follow!
Mission Accomplished!!!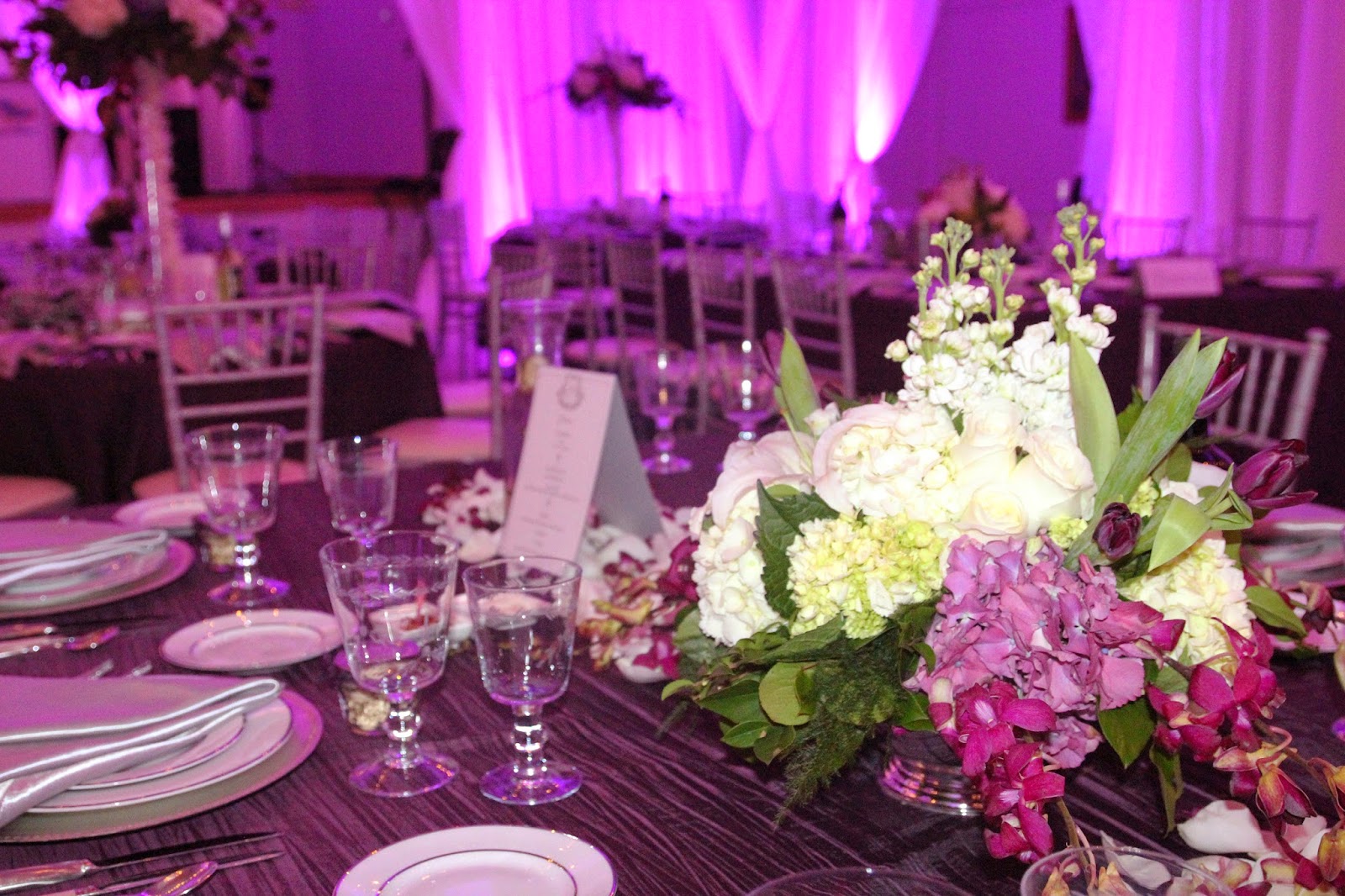 Featured: Gorgeous uplighting creating a romantic atmosphere, with staggering floral centerpieces by Stems at the Palatine. We loved the draping orchid garlands on the tall pieces! Custom Menus to coordinate with the Vow Renewal Invitations Wedding Crest, Custom Designed by RSVP Style. Custom Monogram Stamped Napkins. Italian Dessert Bar - Staging by Stems at the Palatine.